Why are Golden Goose sneakers so expensive and where are they on sale?
By now, you're probably familiar with the Italian sneakers that come pre-distressed and have a funny name. I first discovered Golden Goose sneakers living in Milan, and took my dad through their store while he was visiting. He was so confused—"why are they selling used shoes?!"
Golden Goose Deluxe Brand
Truthfully, the concept is not new per-se. Denim jeans have been sold new with holes, distressing, and other markers of use for decades. It's only recently that the idea has been applied to other apparel and accessories. Golden Goose Deluxe Brand was launched 20 years ago, inspired by both the skate culture of Southern California and the timelessness of Italian hand-craft.
To make a unique mark on the fashion scene, founders Alessandro Gallo and Francesca Rinaldo adopted the mantra 'perfect imperfection' for their now-iconic sneakers.


Why Golden Goose sneakers are so expensive
While uniformity and precision are intrinsic to the luxury fashion space, the flip side is an appreciation for the uniqueness that stems from creation by hand. That means, just like we all have unique fingerprints, each pair of sneakers that comes out of the Golden Goose factory in Veneto is unique.
Every season, Golden Goose introduces new styles with new finishes and treatments, all of which relate back to the technical skill of its Italian artisans. Then, like a pair of jeans might be pre-distressed, scuffs and small marks are applied to each pair to give them an authentic 'touched by life' feel.
Once they reach the consumer, rather than being pristine, they're immediately ready for wear, because they already have that pre-loved look.
And though they may look 'used,' they start with the highest-quality materials that Italian shoes are known for—full grain calfskin leather, premium cotton laces and loopback cotton lining. Think of them as the undercover luxury sneaker…now imitated many times over, but never duplicated.
Golden Goose sneakers are pricey for a few reasons. Each pair is uniquely handmade and hand-distressed, which actually means it takes longer to produce them.
Additionally, each model (e.g. Superstar, Ball Star, Hi-Star, Francy, Slide) is designed differently from the others and given new color-ways each season, so the distressing varies by model, gender, and season as well.
How Golden Goose sneakers are made
On any given pair, the right shoe may not match the left shoe perfectly, and this is intentional. They are usually similar in terms of marks and distressing (there is a method to the pre-distressed look!), but the patterns are not always identical. See the photos above and below for more detail.
Keep in mind that the presentation and storage box is sometimes distressed as well and varies by model. This is important to note because this is not a defect or damage from shipping and handling.
You'll also notice the interior lining, which is not smooth leather or unvarnished suede leather, but rather a loopback cotton toweling material, which makes the shoes warm in the winter and cool in the summer for your feet. This is also a purposeful design feature so your sneakers are pleasant to wear year-round.
These are all subtle design cues that make Golden Goose sneakers so special.
How Do Golden Goose Sneakers Fit?
Golden Goose tend to be wider than other sneakers, and the sneakers have a taller leather insole that provides better cushion and comfort. If you already have a pair, did you notice you felt a bit taller, putting on these shoes?
This height advantage—the 'stiletto of sneakers' if you will—is one reason Golden Goose is so popular, but it also affects the sizing and fit:
Golden Goose shoes come in whole sizes only (women's US 4 to US 11 and men's US 6 to US 14)
Due to an approximately 3 to 5 cm difference in heel height, which slightly shrinks the length of the foot overall, as well as the width of the shoe, it is advised to

size down to the nearest whole size if you are in-between

. Otherwise, they fit true to size.
So if you typically wear a US 7.5 women's, it is best to order a US 7 in Golden Goose, a.k.a. an IT 37.
If you usually wear a US 8, order a US 8 a.k.a. an IT 38. The same applies for men.
Our 3 favorite Golden Goose sneakers
Looking to get on board with the pre-distressed sneaker trend, but not sure which Golden Goose model go for?
We've rounded up our 3 favorite Golden Goose sneakers below, so get inspired!
Desgined in 2007, the Super-Star sneaker is Golden Goose's most iconic design, updated every season with exclusive finishes and innovative materials. The Super-Star was the first model to features Golden Goose's signature side star detail. If you're looking for a casual, comfortable, and versatile sneaker, the Super-Star is the one for you. We especially love this pink iteration.
The dad shoe trend is far from over, and we absolutely love Golden Goose's take on it. The Dad Star is made from a mesh and suede upper accented with the signature star emblem. You will find it in a range of hues, from classic beige to leopard print. Wear it with your workout clothes or dress down an ultra-feminine silhouette. 
Inspired by the basketball scene of the 80s and by American college culture, the Sky Star is a high-top sneaker made from smooth nappa leather. On top of the signature side star, it also features the Golden Goose signature on the upper. The Sky Star evolved from the Ball Star, a low-top inspired by varsity-style basketball.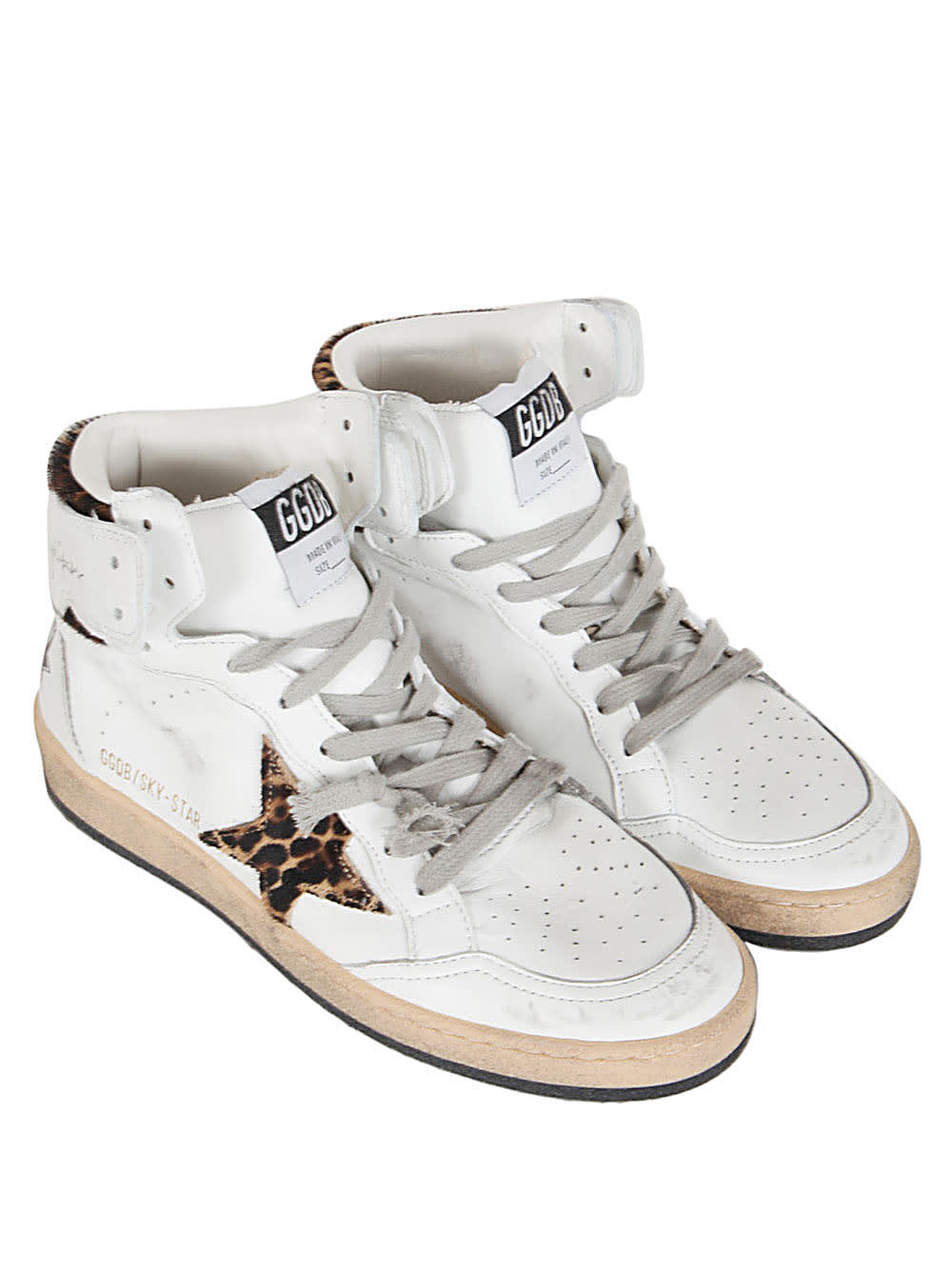 So why are Golden Goose Sneakers so Expensive?
In short, it comes down to these simple factors:
Each pair is made by hand in Italy, where factory workers make a fair, livable wage.
The hand-distressed aspect actually makes them more costly to produce than they would otherwise be if they looked 'new.'
Most Golden Goose designs use multiple pieces of leather and patterns—not a single material for the entire shoe—which adds complexity to production processes and materials sourcing.
Luckily, we always have a large selection of Golden Goose sneakers for women, men, and kids, and constantly have the best pricing offer in the market.
Discover more footwear coverage: Iconic Shape—the Maison Margiela Tabi, How to find your size across different shoe sizing systems, and A Stylish Staycation with Saint Laurent sandals.
---
Shop italist for up to 40% off on over 200,000 up-to-the-minute luxury fashions for women, men, and kids from leading brands like Golden Goose, Fendi, Gucci, Miu Miu, and many more—direct from Italy's finest boutiques to your door.